Christmas' Hottest Beer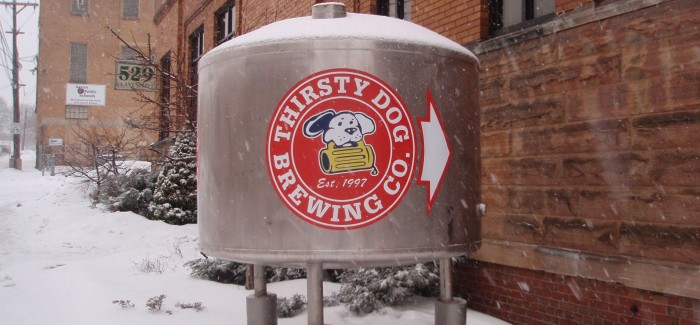 There's nothing we hate more than seeing Christmas decorations hanging in stores well before the calendar turns to December so we understand if you're maybe a little peeved while reading this. But hey, is it ever too early to be talking about a great beer?
Every year, 12 Dogs of Christmas Ale from Akron's Thirsty Dog Brewing Company comes out in mid-October and for the next two months we are inundated with so many orders that we often simply run out of it. But it's not just our customers who think this is the Christmas beer to have; 12 Dogs is the second highest rated Winter Warmer on BeerAdvocate.com with at least 400 reviews. So believe us when we tell you, this is one of the very best Christmas beers out there and you'll want to snatch it up as soon as you can.
See, there was a legitimate reason for posting this so far in advance!
Filled with seasonal flavors from generous amounts of toasted and caramel malts, 12 Dogs is mixed with equally generous amounts of honey, cinnamon, ginger, and nutmeg. Available in six-packs at stores and on draft or in bottles at bars and restaurants throughout Ohio, this is the perfect libation for the winter season.
For more information about Thirsty Dog:
Visit their website: thirstydog.com
Give them a Like on Facebook
Follow them on Twitter